Welcome to
High Bridge,
Kentucky
A Postcard/Photo Collection
---
Click on postcard to enlarge:
---
High Bridge Today (Photo Set)
KET Program on High Bridge
High Bridge was first planned as a suspension bridge by John Roebling, designer of the famous Brooklyn Bridge (NY City). Huge stone towers were built to hold cables in 1851. Work on the bridge was abandoned during the Civil War. Construction was resumed by the Cincinnati Southern Railway and the bridge opened in 1877. The 275/308-foot tall and 1,125 foot bridge crosses the deep gorge of the Kentucky River between Jessamine and Mercer counties. It is the first cantilever bridge built on the American continent. Being, at the time, the highest railroad bridge in the US, High Bridge at once became a tourist attraction. Its popularity was at a peak during the first 20 years of the 1900s. In 1911 the bridge was rebuilt using the same foundations and without stopping rail service. In 1929 the large twin towers were also torn down, and its popularity slowly faded. Other attractions are High Bridge Park, confluence of the Kentucky and Dix Rivers, High Bridge Quarry and Lock #7.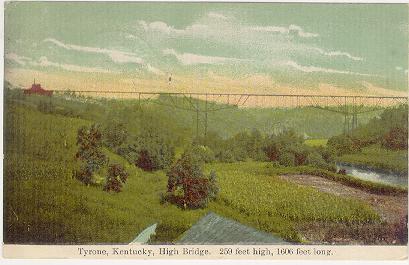 Another Kentucky High Bridge (Young's High Bridge - down the river at Tyrone, KY)
Young's High Bridge

Copyright © 2000-2004; Designed and maintained by Jon Hagee.