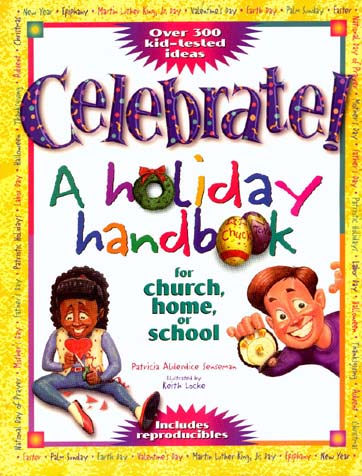 by Patricia Alderdice Senseman
---
Whether you're a teacher, youth leader, or parent, this handbook will help you teach Christian principles through creative holiday celebrations. Each activity is designed to communicate God's Word in a simple, meaningful, entertaining way.
Inside CELEBRATE! you will find more than 300 kid-tested ideas for inexpensive, easy-to-do holiday fun.
recipes for prayer pretzels, resurrection surprise rolls, cookie turkeys, and twenty other edible treats

creative activities like mumming, Easter caroling, and Thanksgiving croquet

instructions for making crafts with a message such as equality bracelets, Scripture stickers, and salvation eggs

suggestions for devotions and prayer times
Also included are plans for ten holiday theme parties, complete with reproducible invitations!

Featured Holidays are:

New Years Day                        Mother's Day
Epiphany                             Father's Day
Martin Luther King, Jr. Day          Pariotic holidays
Valentine's Day                      Labor Day
Palm Sunday                          Halloween
Easter                               Thanksgiving
Earth Day                            Advent
National Day of Prayer               Christmas


Patricia Alderdice Senseman is a writer, editor, trainer, and consultant. She was the director of children's ministries at Southeast Christian Church in Louisville, Kentucky, before serving as editor at Standard Publishing for seven years. Patricia continues to write and edit from her home in Cincinnati, Ohio. She enjoys celebrating the holidays in a holy way with her husband, Mark.

Patricia may be reached at: PattSense@aol.com

List Price: $14.99

Standard Publishing; ISBN: 0784706956
---
visitors since 8/1/98!
Copyright © 1998; Designed and maintained by Jon Hagee.
My thanks to Joe Pearson and Web Publishers for providing this Web site.